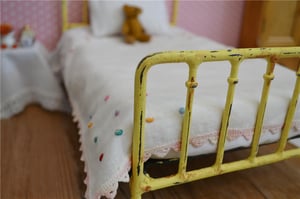 $

69.99
Looks and feels like an old-fashioned Victorian 'iron' doll bed in miniature! Curved but square headboard and footboard have decorative knobs, and looks perfectly authentic for your dolly's room. Bed is made of steel and welded by hand. Just right for a Barbie bed, Blythe bed or other 11 1/2 inch dolls. Would look beautiful in victorian doll houses or dioramas.
Bed matches up with Playscale and 1/6th scale. A wonderful addition for your doll house furniture.
Bed can be shipped paint free for that natural antique look or custom paint colors can be added. Bed colors can look brand new or be "antiqued". When ordering please choose a color and finish from those listed, or if you want something different specify in the comments section.
Bed measures 13" long by 7 " wide. Headboard is 7 1/2" from the floor and the footboard is 5 1/2" tall.
Tiny angle iron rails are ready for a mattress and bedding. All bedding shown is sold separately. Be sure to check out our bedding options in our other listings.